REACH-IT PreSIEF XML Reader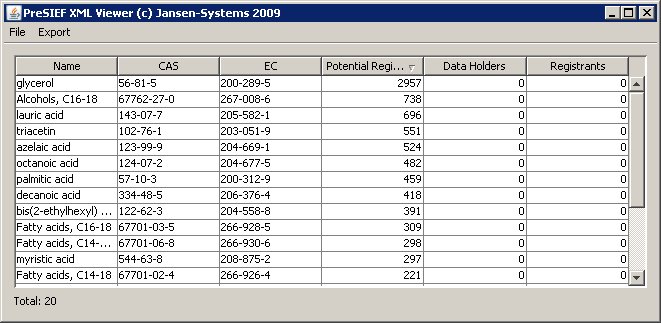 Official information about each PreSIEF is accessible via REACH-IT where XML files containing every member of the PreSIEF can be downloaded. These XML files can be easily used by computer programs but are not very human readable. To get the information in a better way out we developed a XML Reader for the PreSIEF XML files from REACH-IT.
The following features are included:
Loading of multiple XML files via menu (single files or complete directories) or using drag and drop
Generating Email lists out of each member in one single PreSIEF or of all members in all loaded PreSIEFs at once
Exporting a list of all members into an easy to read Excel Spreadsheet. Members can be exported per PreSIEF or of all loaded PreSIEFs
Analyse a list of PreSIEFs in a matrix in Excel comparing the loaded PreSIEF substances and the members. This helps to identify your competitors e.g. for a group a chemicals and to see which derivates they are registering.
Customers already using this product:
If you are interested please contact us.